The Rochester Amateur Radio Club, WØMXW, KØRGR (GOTA) and N8MHD (QRP)
Bill KCØWIM and Doug KDØUGB assembling the 2m VHF antenna.
(KCØWIM photo).
The RARC field day event this year was a smashing success, operators, and bystanders all got a taste of what Ham Radio can be under abnormal circumstances. The point of Field Day is to simulate a catastrophic emergency where permanent structures and systems are unavailable and the Ham must fend for themselves. We operated from the Cahill farm in south-east Minnesota for the year 2007 event, using no power from the electrical grid to run the radios, instead we relied on generator and battery power. Yes we even used solar power! This year the RARC chose the 3A category for entry. One Morse Code (CW) station, one Voice (SSB) station, and one digital (PSK31) station were in operation at the same time. The bonus "Get-On-The-Air" (GOTA) station doesn't count towards the transmitter class, but instead is there as a 'free' station, to allow non-hams or those who don't operate HF much, to make contacts under MUCH less stressful circumstances. Peter N8MHD operated his own station under his call sign at "QRP" or low-power levels. We also put together and operated a VHF station for a good part of the contest, Mel, KC0P, headed up the VHF operation in what I call the "Mel-mobile" pictured here.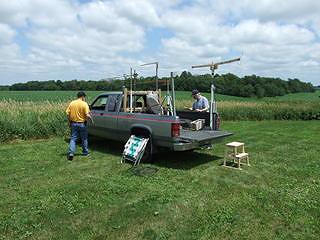 Mel KCØP's VHF station. (KCØWIM photo)
This station attempted contacts with both the International Space Station (ISS) and OSCAR satellites. We were able to hear at least one satellite, but were unable to complete a contact. Mel brought along equipment for 50mhz, 146mhz, 440mhz, 1.2ghz, and 10ghz. We completed contacts on multiple bands, and even tried a "DX" contact on 10ghz with a station out of the twin cities. I enjoyed watching Mel methodically make a contact with one station on about 4 different bands, each time agreeing on a frequency and who would call first, and just-like-that he would log them. It wasn't quite the 50-60 contacts per hour we were experiencing on the "big" HF stations, but he rolled them in just the same.
How many hams does it take to put up an antenna? Art KCØJKP, Mike NØMGY, Doug KDØUGB, Don KC0TST, and Pat NØADQ on ladder. (KCØWIM photo)
Field day is all about improvisation, you make things up as you go. The ladder makes a very convenient antenna tower when lashed to something relatively solid. We also put a high definition UHF tv antenna up on a hay wagon, its front guard rail provided the lashing point. When you're operating under "Emergency" conditions, you get to make up new ways to do things. The recent hurricane disasters brought standard communication infrastructure down completely. A hurricane doesn't spare ham radio towers either, so one has to make-do. During the event the G5RV antenna designated for the digital station broke, and we had to improvise another dipole and support it. So far we haven't attached a lawn chair as an antenna, but that is on my list of "things to try."
The afternoon began at 1:00, with a sudden awakening of the bands to the "CQ Field Day" of probably every serious operator in the western hemisphere. Operators frantically try to make contact with as many stations as possible in 24 hours. Field day could never happen without equipment and of course FOOD!!! The RARC and its members would like to thank the following sponsors who provided this most important aspect of field day: