Summary and report for the 2009 RARC Field Day main station: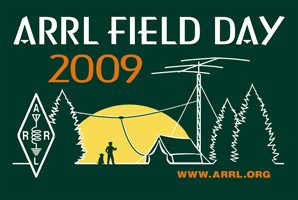 At the 2009 RARC Field Day we ran as 3A (3 transceivers SSB,CW & digital plus free VHF), using host Pat Cahill's call WØBM with final score 8,280 and details listed in the table below.  This compares to last year, when we had 2894 QSOs running KWs as 5A for a total score of 5718. This year in the spirit of learning and trying something different, we went away from KW amps to the sweat & muscle of putting up towers & beams on every band. That plus some research by Grant K1KD to mainly have all antennas horizontally polarized in a straight line N-S and point them E-W  to keep the two main CW & SSB stations in nulls gave us a bunch of new learning points.  CW was setup north of the silo using the older crankup tower and Grant's A3S beam.  SSB was setup in the food building with it's normal tower/antenna setup. Digital was in the SE corner but had the older Mosley classic club beam on 30' of Rohn25 bracketed to the Olmstead Co EIMS van.  We have various wires on 80-40: open wire fed dipoles with tuners on CW & SSB plus digital had a 40m loop.  Some notes and observations:
(1) Using the combination of low power, horizontal polarization, and spread out stations saved us a ton of cross band interference.  Even on the same band we rarely heard spurs from other stations and rarely even used the notch filters.
(2) Going with all triband beams really helped.  We had some sporadic 10m openings and really good 15m openings to get off the craziness of 20m.  SSB got 15m reports of a "bodacious" signal – W1AW was even calling us in a pileup.  We did let some newer ops use the main SSB for some training and had a good crew running all night.  Digital got a lot of help from younger ops as well running all night with about equal Qs on the beam & 40m loop. But CW clearly won the max QSOs award with a lot of Qs from K1KD, K4IU, WØMN, WOØZ and WØBM – I believe it was on all night as well. However most propagation was east, not as much to the west even late Saturday.
(3) Mel KCØP was not planning to be out with his VHF/UHF pickup this year due to a family event (he did show for a bit that night) so both Doug KDØUGB and Dave KCØUCN setup VHF with many helpers including a visitor running on 10GHz.  THANKS GUYS.
(4) The weather and lack of mosquitos really helped.  We had some pesky flys but with cooler temps and the rain disappearing by 8am Saturday all we had to deal with was some strong south then on Sunday strong north winds. FD on the farm = windy.
(5) All the "other important stuff" was superb. Signage was secure in the winds (Pat kept them for next year). The food was incredible especially John Hardy's, we must have had 10 lbs of coleslaw to complement that stack of pork. The potties were secure and we had a new visitor Friday during setup from RPU – a dual bucket truck with a 80 foot arm that got our wire dipoles WAY up in the trees! PCs and generators worked fine too with much better watts per gallon running 1/10 power. And all the extras who helped setup, take down, give us things like solar charged batteries and extra cables etc were greatly appreciated. We overachieved the PR with blurbs in the Post Bulletin calendar all week and a surprise visit by KAAL TV,  then nice showing on the 10pm news Sunday night – a surprisingly accurate report despite referring to CW as "beeps and boops".
(6) We are already collecting some feedback into notes for improvements in 2010.  Please give me your comments good and bad while it's fresh on your minds – we want to both do better and try new things.
(7) In looking at the goals we setup in March I think our event was very successful, as both a  competitive event, trying new things, some fun and time to train & get to know each other better, plus we kept it safe too.  It is fun to have both the 100W and 5W stations close together for socialization and sharing setups too.
MANY  MANY  THANKS  to all that  helped  physically  and  operated  or  just showed  up.  AND  SPECIAL  THANKS  to  the  2009 RARC  FIELD  DAY  COMMITTEE!!!  
We will have a standing ovation at the July 14 RARC meeting when Pat provides a score summary. Great job RARC!
73 Dave KØVH
Score Summary:
CW

Digital

Phone

Total

Total QSOs

1127

265

751

Total Points

2254

530

751

3535

Claimed Score = 7,070

TOTAL SCORE = 8,280
2009 RARC Field Day Sponsors:
In addition to the radio fun, we also ate well! Thanks to the following businesses:


| | |
| --- | --- |
| | Subway (22nd Ave NW & 37th St) donated a 6 foot party sub for Saturday lunch. Our gratitude to Mike (Mgr)! |
| | John Hardy's Bar-B-Q provided Pork Sandwiches and Coleslaw for members for our potluck on Saturday! What a gracious donation - thanks Mike! |
| | Panera Bread (Marketplace NW) provided a host of breakfast goodies for Sunday morning. Our profound thanks to Jeff (Mgr)! |
Our gratitude to those three restaurants and when you eat there please make it a point to thank a manager for supporting our 2009 Amateur Radio Field Day!
2009 RARC Field Day Photos and Video: